Readiness
Local hospitality providers are confidentially coordinated for comprehensive corporate housing and executive independence.
Feel comfortable in upscale accommodations.
Take comfort in a clean, welcoming environment with comprehensive housekeeping and continuous maintenance.
Clean and upscale fitness, pool, and hot tub facilities are on-site, or, as a contingency (such as for seasonal closures of pools), via free private transportation.
A supplemental 24-hour extensive business center is accessible via free private transportation.
Executive Independence
Complimentary Benefits
More important than ordinary hotel offerings, you will benefit from our uniquely empowering privacy benefits.
To support the paradigm of executive confidentiality,
while cushioning the discipline that you must maintain,
we reward you with an upscale caliber of complimentary inclusions.
Food, Wine, and Liquor
Delivered for Your Convenience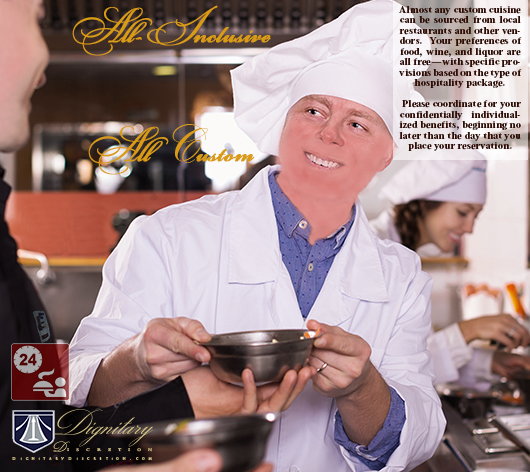 Private Transportation
Confidentially Driven Locally
Free Each Day
Relax in anonymity and convenience with complimentary private drivers.
For your arrival and departure, private transportation is provided for any regional transportation hub, home, or office.
For each day of your stay, round-trip transportation for any local destination is complimentary if you placed your reservation directly with us, or via a travel agent who provides personal service.
Priority transportation is provided for attendance at a church or synagogue on weekends and holidays. There are no blackout dates (Easter and Christmas are especially popular), and no restrictions on method of reservation or for specially discounted packages. We merely ask that you schedule in advance so that we can reasonably arrange manager-volunteer or consumer transportation.
Livery with Rabbit Hole is consumer-grade, which may include prepaid taxis or consumer drivers. Limitations and conditions apply, such as
the requirements for advance scheduling,
presence of the primary client in each ride, and
restricted availability on some holidays and on days of some major events.
We cover tips and toll charges.
Please contact us for details, and for optimization based on whatever is most important to you. For non-complimentary transportation, we provide 24-hour concierge proxy anonymity to arrange whatever transportation requests you have; the actual charges from the transportation providers are simply charged as reimbursable.
Parking
If you choose to have your own vehicle instead of making use of our complimentary livery services, single-space parking is complimentary.
TSCM
Telecommunications
Location- and Network-Stripped Encryption
Internet access with anonymously encrypted VPN is complimentary.
Free domestic calls are enabled via a calling card or as VoIP on your computer.  Limited MILSPEC encrypted calls via your computer are complimentary with direct reservations.
Individualized Based on Your Preferences
Clean and Upscale
Custom-Coordinated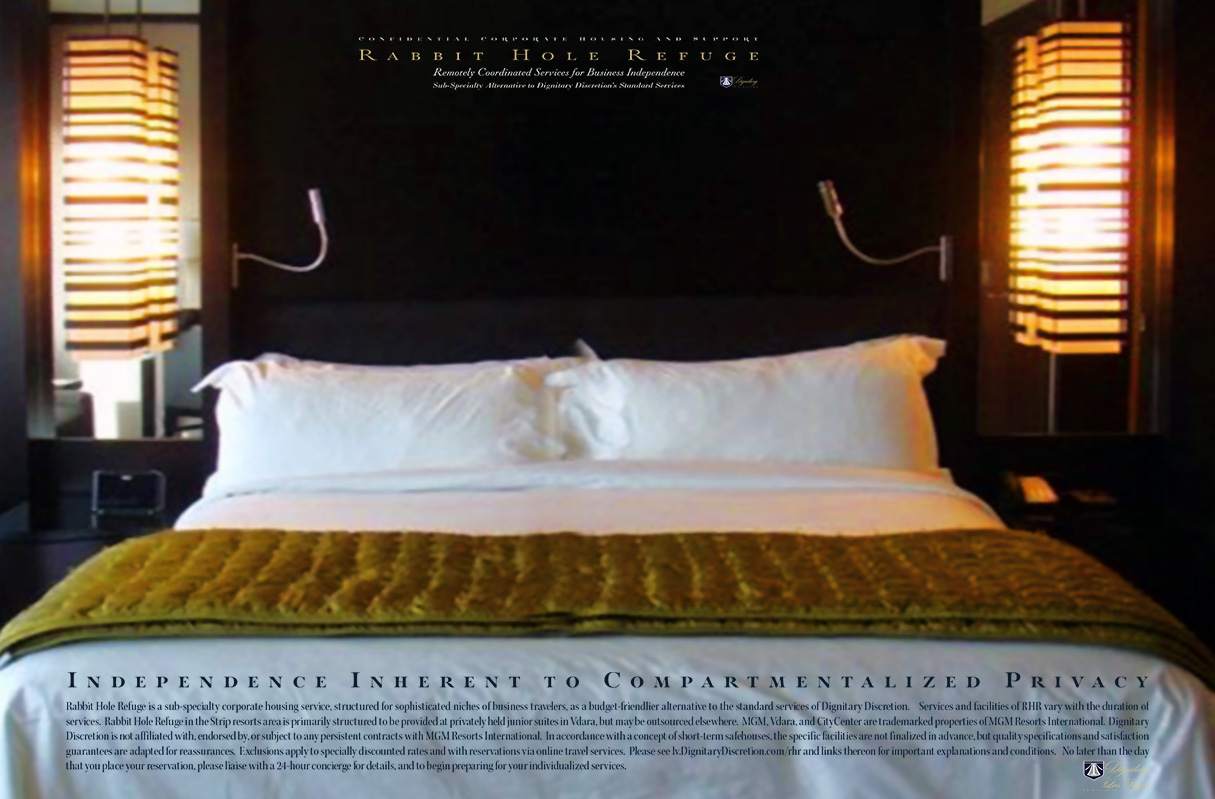 Based on your particular requests, short-stay Rabbit Hole Refuge is typically outsourced to a hotel room. For proxy anonymity, we offer to register you primarily under a name of our legal-services firm. We supplement additional services, several of which surpassing five-star standards for inclusions. Upgraded local amenities are complimentary and accessible via free consumer transportation.
Before our supplemented services and amenities, the base hotel would typically be at a caliber of approximately four stars.
Bedding for Two People
You will have a minimum of either a queen bed or two double beds.
As a function of our paradigm for confidentiality, the ability to guarantee either one or two beds requires a direct booking with an increased rate of 20%, assuming that the selection is made at the time of booking.