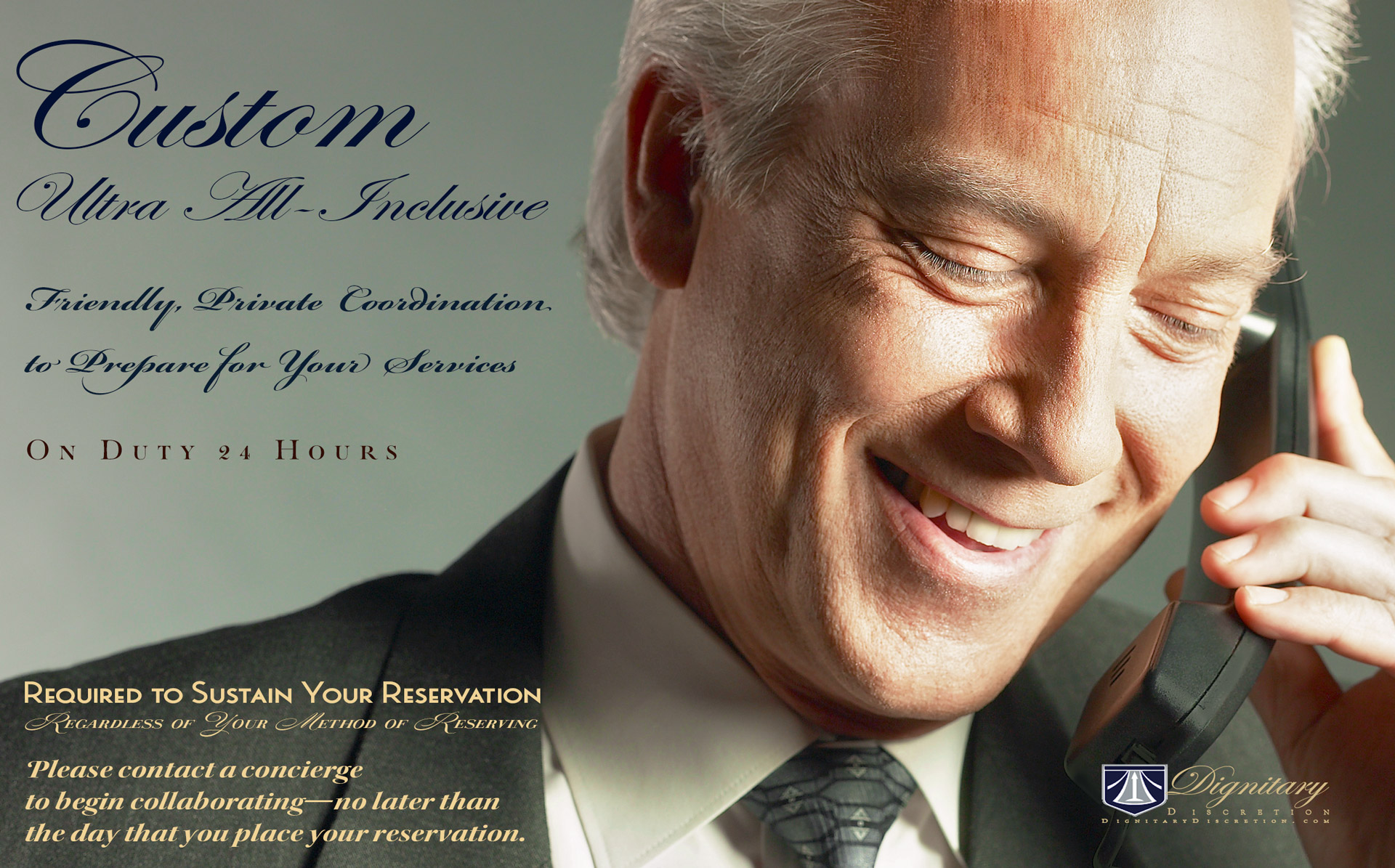 Multiple aspects of the feasibility of our services require private coordination in advance.
We are happy to comply with almost any communication and cutout protections— based on enhanced-alert dignitary protocols that categorically surpass customary commercial capabilities.
Although concierge liaising is required, initiated by you or your personally capable representative, beginning no later than the day that your reservation is placed, we welcome your directions for whatever security procedures you prefer. Our objective is to fortify a profound increase in your security.
Reservations Placed
Five Days Prior to Arrival
Please liaise with a concierge when you place your reservation, so that your reservation is completed within five days after the original booking, including clearance of payment in full. Thereafter, you can proceed with a dialogue of your specific preferences, on a schedule that is more leisurely for you.
Costs increase, and resources decrease, as the arrival window narrows; therefore, services are conditional on coordination beginning no later than the day of placing your reservation. Rates usually increase significantly in the months, weeks, days, and hours prior to arrival. These higher rates are primarily due to higher internal costs and reduced availability of resources, and are not efforts at disproportionately higher margins.
Please click here for a new tab that explains further about securing your reservation in advance.
Because we would not know how to prepare for your services, if the reservation has not been completed and secured within five days after placing the reservation, it disappointingly may be cancelled anytime thereafter.
If cancelled, you would be welcome to place a new reservation. As a function of dignitary-style, mission-critical availability, we always are willing to fulfill needs for protective hospitality and confidential executive facilitation, but specific types of accommodations and services are subject to availability at the time that the reservation has been successfully finalized, and the costs to us for emergency arrangements cause the rates that we charge to be perhaps strategically worthwhile for a client, but outside the realm of customary hospitality.
If you do not successfully complete your reservation within five days of placing it, but if your reservation remains active, services would be reduced in accordance with the available rates and services at the time that your reservation eventually is completed, including the clearance of payment in full. If the reduced services would not be acceptable to you, and if you do not wish to pay higher rates, you would be respectfully suggested to choose to cancel your reservation. Regardless, we would sustain goodwill for you for any future services.
Please click here to open a new tab for guidance of canceling prior to the conclusion of the no-charge cancellation period.