Private Transportation
Confidentially Driven Locally
Free Each Day
Relax in anonymity and convenience with complimentary private drivers.
For your arrival and departure, private transportation is provided for any regional rendezvous point, such as a pickup area at the airport, any local home, or any local office.
For each day of your stay, round-trip transportation for any local destination is complimentary.
Priority transportation is provided for attendance at a church or synagogue on weekends and holidays. There are no blackout dates (Easter and Christmas are especially popular), and no restrictions on method of reservation or for specially discounted packages. We merely ask that you schedule in advance so that we can reasonably arrange manager-volunteer or consumer transportation.
Livery with Rabbit Hole is consumer-grade, which may include prepaid consumer drivers. Limitations and conditions apply, such as the following.
Please schedule rides at least a day in advance. Otherwise, we provide 24-hour concierge proxy anonymity to arrange whatever transportation requests you have; for urgent requests, the actual charges from the transportation providers are simply charged as reimbursable.
Wait times, same-day cancellations/missed rides, and custom arrangements are reimbursable at our actual cost. By providing us with your flight information so that we can track the suitable time for your arrival, the driver will not be activated until you are ready to be retrieved. (Drivers normally wait in queue at or near the airport until called.)
Transportation is for the benefit of the primary client, who must be present for a ride to be paid at our expense.
The free transportation of Rabbit Hole Refuge is consumer-caliber, merely intended for basic anonymity and convenience. It is not suitable for mission-critical, urgent or otherwise time-sensitive, high-profile, or high-security circumstances. We never charge fees ourselves for transportation, and we are not in control of extraordinary circumstances. Availability could be limited on some holidays, on days of some major events, and during severe weather.
Exclusions apply to reservations with specially discounted rates.
Please contact us for details, and for confidential optimization based on whatever is most important to you.
Parking
If you choose to have your own vehicle instead of making use of our complimentary livery services, single-space parking is complimentary.
Coordinated Corporate Housing
Upscale with Supplemental Benefits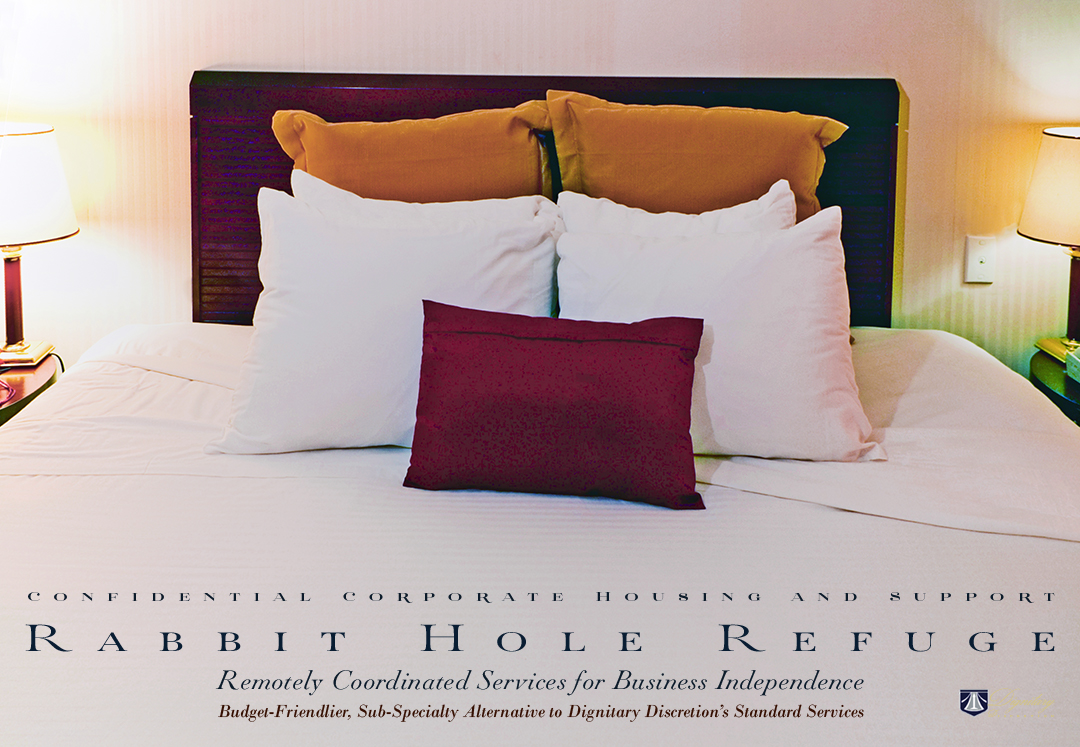 Based on your particular requests, short-stay Rabbit Hole Refuge is typically outsourced to a customary hotel room or basic vacation rental. We supplement additional services, several of which surpass customary inclusions for luxury hospitality. Upgraded local amenities are complimentary and accessible via free transportation.
Before our supplemented services and amenities, the base hotel for regularly priced Rabbit Hole Refuge would typically be at a caliber of approximately four stars.
One or Two Beds
As a function of our primary mission of specialty fulfillment of niche preferences, particularly the safehouse paradigm, with Rabbit Hole Refuge as a sub-specialty of outsourced corporate housing, the ability to guarantee either one or two beds is only possible with a regularly priced reservation, with an increased rate of 20%. Because this premium request is not available via online reservations or third-party agencies, please contact us by phone or E-mail to place a reservation specifying one or two beds.
Business Development Niche
Rollup Pre-Negotiation Tours
As a corporate housing sub-specialty, Rabbit Hole Refuge is usually structured for services lasting one week to one year. However, with gratitude for referrals by investment bankers and business lawyers to clients who are embarking on rollup projects, we especially serve a niche of business-development managers who are confidentiality-protective. Rabbit Hole Refuge fulfills the otherwise conflicting requirements of many BD managers who are working on projects that are confidentially compartmentalized, thereby preventing clerical curiosity and gossip that could occur from exceptional arrangements:
off-book protections for insulation of awareness of interests in markets or acquisitions with serious sensitivities,
availability via most travel services (fulfilling corporate policies of using designated agencies or in-house corporate services), and
limited per-diem budgets (RHR is below the cost of our standard services, and provides for per-diem needs of food and transportation).
During the pre-negotiation analyses of a multi-location rollup, the stay in each locale is often less than a week. We are sensitive to B-D managers' concerns of preventing potential sellers from inflating prices (based on awareness of potential interest by a well-funded prospective buyer), and existing local competitors from having time for preemptive market/development sabotage.