Countersabotage
Countersurveillance
Counterespionage
Local Class-A Office Building
Serious Private Office
Countersurveillance-Enabled Executive Technology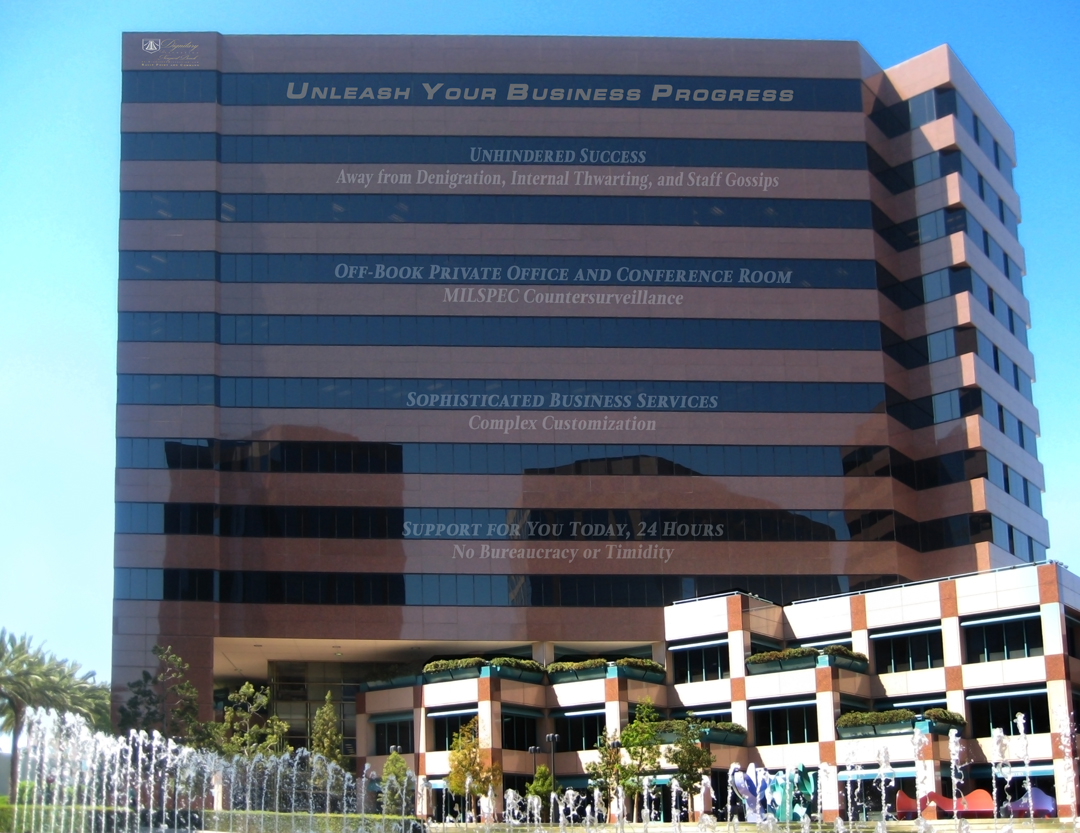 Beyond Relevant Military TS Specifications
Achieve breakthrough business progress with comprehensive in-office business services.
Venture Sovereignty Package
Be privately chauffeured to a serious class-A office building. You will have exclusive full-time use of a furnished private office.  (Customary class-A building policies apply.)
Be productive and secure with limited complimentary use of equipment that surpasses what is readily available commercially. Phone, E-mail, and Internet communications are untraceable and secured with multiple layers of salted encryption (relevant military specifications for TS classification) that change with each instance.  Full-service unlimited technical support by a professional cryptologist/world-class counterintelligence designer is complimentary, who guides you on the security features that you exclusively control.
Professional executive support is off-book and loyally confidential. Services include technical, secretarial, financial, presentation, and managerial. Ten hours of services per day are included.
Proceed by avoiding corporate politics, competitive sabotage, short-sighted activist investors, and exploitative fund consultants by holding off-book meetings in a boardroom-caliber conference room. Electronic sound cancellation supports your freedom.
Access under Your Control
At your private office, visitors are screened and must be actively approved by you, and cleaners do not enter alone.
Additional Services
The following services are available but separate from the included labor:
extensive or professional-grade presentation, non-regulatory financial, or managerial services;
anonymous use of a conference room or private business office at a class-A office building; and
usage, acquisition, or subscription of confidentiality-enabling technology.
The underlying concept for excluding these tasks is to enable you full flexibility so that you can receive whatever assistance you need, whenever you need it, such as for emergencies that require work around the clock, or only a few minutes a month on a long-term basis.
Proceed
The daily rate of $1,776 is in addition to any of the following regularly priced types of hospitality, and is based on prepayment at the time of reservation.
Signature,
Executive Luxury,
any Sovereignty package, or
Enduring Executive.
Off-Book Meetings
Laissez-Faire Progress
Countersurveillance Sound-Replacement and MILSPEC Teleconferencing
Unhindered Communications and Meetings
Collaborate Freely with Real Progress
Overcome Your Counterparts' Inhibitions to Closing Deals
Advanced Assortment of Accouterments
Inspiring Relaxed Confidence of Your Attendees
Anti-Surveillance Sound Cancellation

or

Countersurveillance

Sound Replacement

Secured Conference Calls Full Duplex for the Full Table

Collaborate Fluidly

Single-Instance Encryption

Surpassing Relevant US MILSPEC for TS Communications

Off-Book Transportation of Attendees

To and from the Meeting

Countering of Location Exposure

Hostess

Access under Your Control Entering only after You Call Her

and

Unlock the Conference Room Door
Vivaciously Bestowing a Happily Energized Atmosphere

Contributing to a Natural Drive of Impressively Closing Deals

Supplemental Lubrication

Connoisseur-Caliber Cocktails in Elegant Crystal

Statesman-Style Undiscussed Placement before Each Seat

Mitigated Legal and Facility Restrictions Provided Incidentally without Fees

If questioned by an attendee of a meeting who has been subjected to HR re-education, your mature host will politely reply that he respects the traditions of the proper entertainment of dignitaries.