Privately Held Suites and Villas Upgraded Luxury, plus Custom Executive Enhancements Ultra-Expansive Resort Amenities
with Special Premium Access
Your Confidentially Custom Accommodations
Individualized Enhancements by Dignitary Discretion
Portfolio of Executive Specialties
Primarily in Upgrade-Caliber Suites at Vdara™

One of the Newest Luxury Resorts in the Vegas Strip Region

Spacious Units and Many Private Owners Resulted in a Wide Variety of Features

Part of CityCenter™ Condo-Based Adjunct to Aria™

Connected to Bellagio™
Luxury-Upgrade Full Suites
Closing-Door Bedrooms
Exclusive Executive Amenities
Enhanced by Dignitary Discretion beyond Five-Star Customs
CityCenter™ is one of the newest and most elaborate
Las Vegas Strip developments.
The regular Signature and Executive Luxury packages provided by Dignitary Discretion are enhanced services and features exclusively provided by Dignitary Discretion. Suites at Vdara™ with the Signature or Executive Luxury package fulfill the official categorization by MGM™ of the upgrade caliber of Luxury, and feature a view of the famous fountains of Center Strip.
An individualized repertoire of executive accouterments, countersurveillance, and business equipment surpasses all other five-star hospitality in Las Vegas. Complexities such as the dedicated 24-hour executive-support team and countersurveillance-enabled meetings are professionally adapted for executives and financiers beyond customary hospitality capabilities.
Whereas most leisure travelers would regard the physical accommodations as being of primary relevance, our niche business travelers rely on the unique and important services from Dignitary Discretion. Routine consumer travelers are respectfully suggested to consider that a customary hotel arrangement with Vdara™ via MGM™ would generally provide for greater affordability and simpler procedures.
Independence and Flexibility
Special Requests
Contingencies for Mission-Critical Dependability
Special requests are welcome. Dignitary Discretion specializes in custom sophistication for executive complexities beyond customary hospitality capabilities. Independence is fundamental to the safehouse paradigm. Flexibility and resourceful contingencies are also fundamental aspects of security and dignitary-style mission-critical service. As such, almost unlimited special requests and upgrade options are available. In the rare event of a facilities issue or unexpected stayover by another client, we upgrade you for free to a privately held suite at an AAA™ Five-Diamond™ underlying resort, likewise along the main Las Vegas Strip, effectively sustaining the same committed features and services, supplementally enhanced based on your requests, with an overall increase in luxury.
Dignitary Discretion is a trademarked service brand of HT Assets LLC, which is not affiliated with, endorsed by, or subject to any persistent contracts with MGM Resorts International. MGM, Vdara, Aria, the Fountains of Bellagio, and CityCenter are trademarked properties of MGM Resorts International. AAA and "Five-Diamond" are trademarks of the Automobile Association of America, relevant to the underlying resorts at which Executive Luxury suites of Dignitary Discretion Las Vegas are located, if not at Vdara, excluding Executive Sovereignty, special requests, and event-based packages.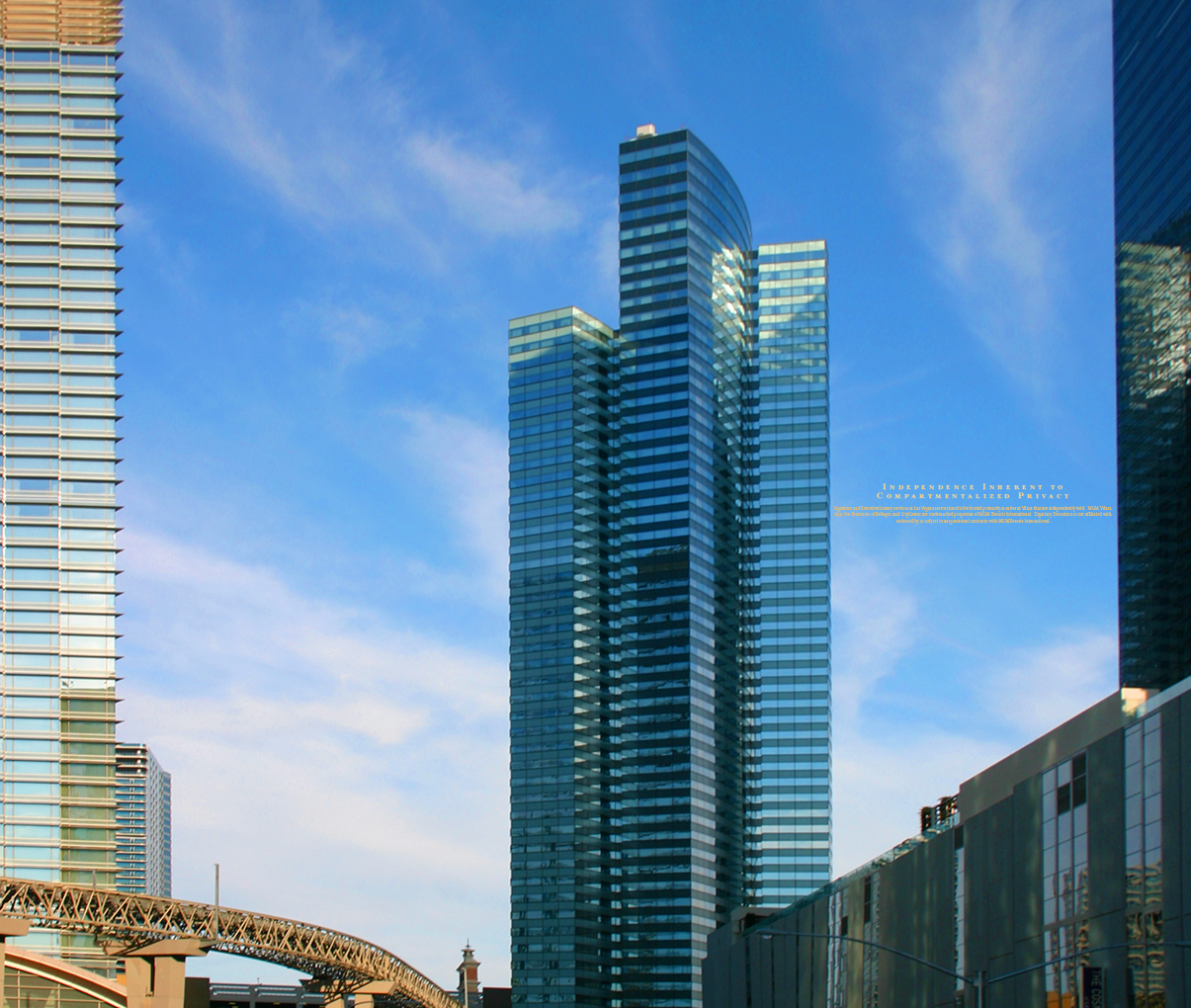 Luxury Suite

Exclusively Enhanced by Dignitary Discretion

Executive Specialties beyond All Other Five-Star Hospitality in Las Vegas

View of the Las Vegas Strip

Penthouse-Caliber Suite at Vdara

Upgraded VIP Suite
AAA™ Five-Diamond™ Resort

Executive Enhancements by Dignitary Discretion

Please Click Here

Please click here.

Powerful Countersurveillance

Away from the Strip's Ubiquitous Surveillance Cameras

---

Thermographic Perimeter Control

---

Privacy and Focus away from the Strip

Affluent neighborhood of celebrities and executives

---

Privacy in Exquisite Luxury

The freedom and efficiencies of greater spaciousness and executive amenities than a hotel suite

Private Designer Pool

---

Private Garage for Chauffeuring Privacy
Uncompromising Ultimate in Luxury Resort Amenities
Dignitary Discretion bestows you with an uncompromising ultimate in VIP access and uniquely enhanced hosting to premium-caliber amenities and resources of clubs and luxury resorts—generally all free, protected with countersurveillance, and hosted for carefree relaxation by your Dignitary Discretion hostesses and concierge.
Please click here for more information.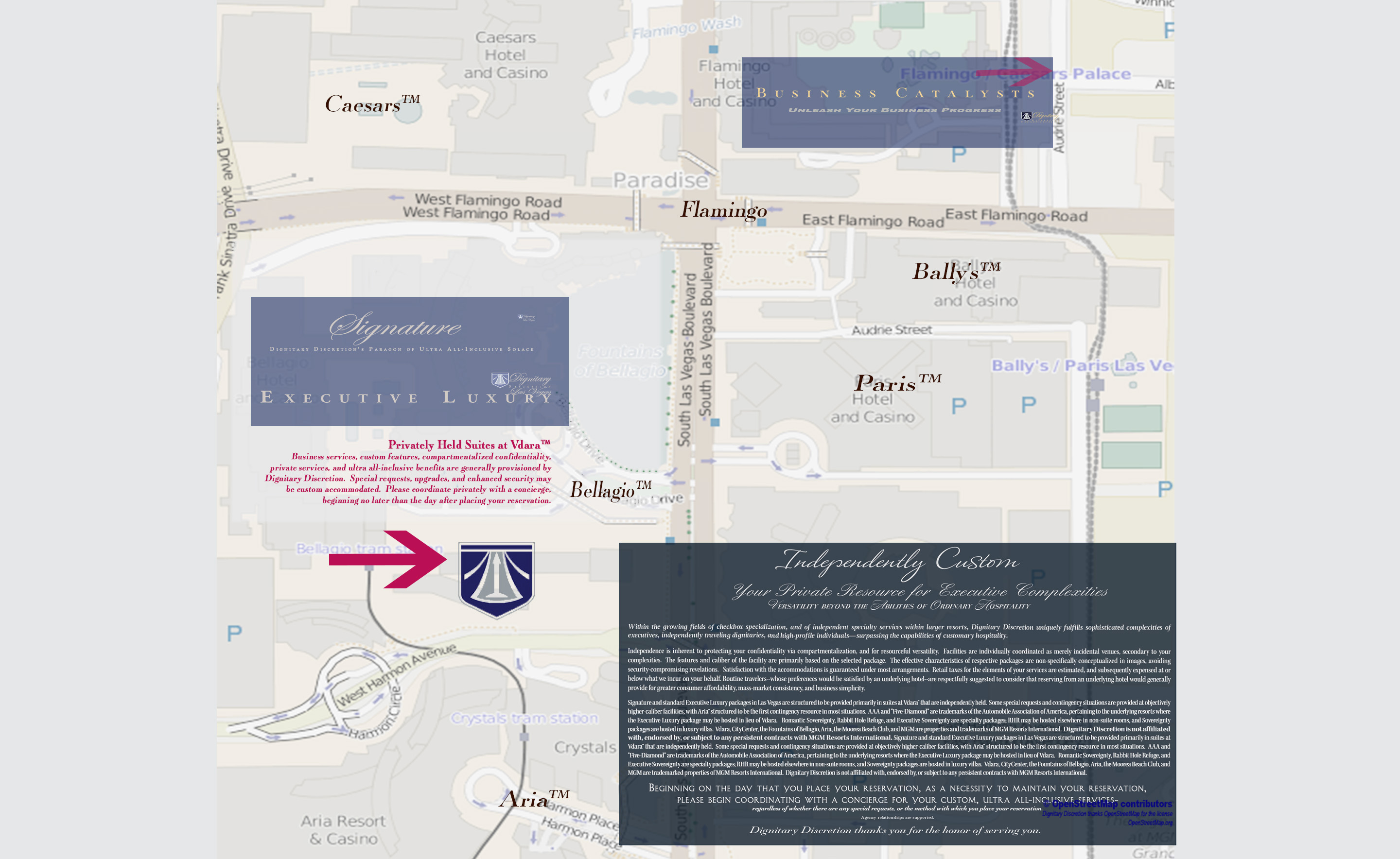 Custom Upgrades
Based on Your Preferences
Aligned with the preferences of our niche markets for location confidentiality, the resort placement itself is secondary to our services. As such, we maintain individualized flexibility in accommodating almost any special request. Complimentary upgrades of suites in Five-Diamond resorts on-Strip may be substituted by us in the event of facilities limitations at Vdara, plus the same ultra all-inclusive services provided by us that surpass five-star customs.
Special requests for amenities and services may be subject to additional fees, conditional on your approval.
Off-Strip upon Request
Away from the Strip's Cameras
Security personnel at on-Strip venues that provide alcohol or gambling may require ID at entry points or upon demand.
If you prefer greater off-Strip privacy, relax in a private residence of modern luxury, all to yourself.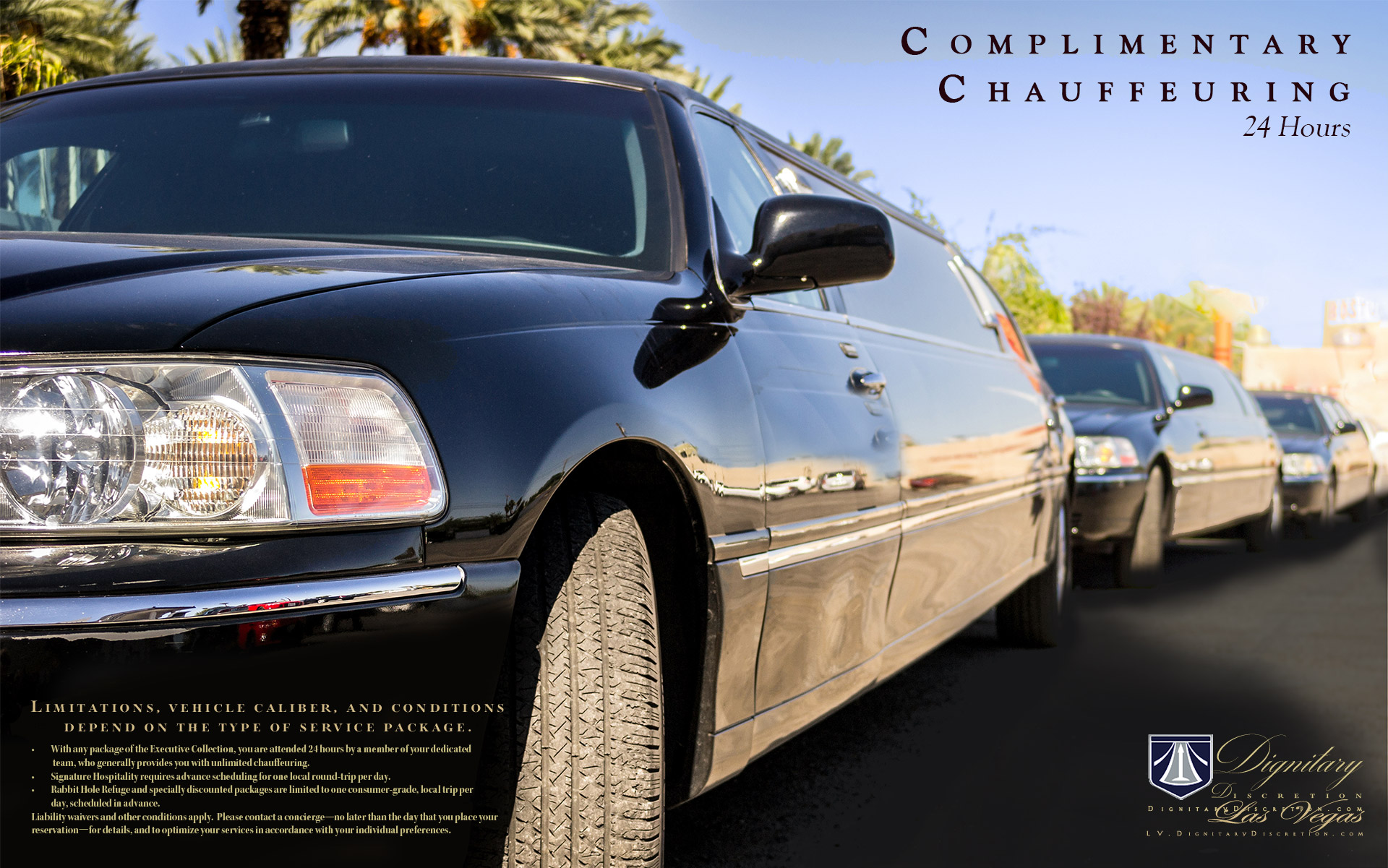 Transportation Based on Your Type of Package