Festivals • Championships • Destinations
Security • Carefree Comfort • Bliss
Sophisticated Off-Book VIP Care for Events and Meetings
Chauffeured and Refreshed
Continuously 24 Hours
In the desert, temperatures can fluctuate by forty degrees in a matter of hours:
cold to sweltering, and then suddenly cold again after dark.

At Your Beckon Call
Your At-Large Attaché
Coming to You with Dignitary-Style Personal Helpfulness
We're here to enable your success—while resourcefully preventing catastrophic risks.
Unexpected circumstances can enable you to capture profound opportunities, or can cause an important occasion to fall apart. A moment of panicked compromise for urgent needs can unleash an avalanche of problems. Your servants will bring you whatever you would like—whenever you want—always with thoughtfully protective discretion.
Everyone occasionally finds themselves in urgent situations of discreetly needing items of hygiene, apparel, sensuality, and/or medicine. (This service is not for serious medical emergencies—but perhaps we can help to prevent a frypan-to-cranium medical emergency with some nice pre-emptive flowers). Never feel awkward with us—few people could ever imagine what has been routine for us, which perhaps is why we never seem to have any memories of specific errands.
Successful Meetings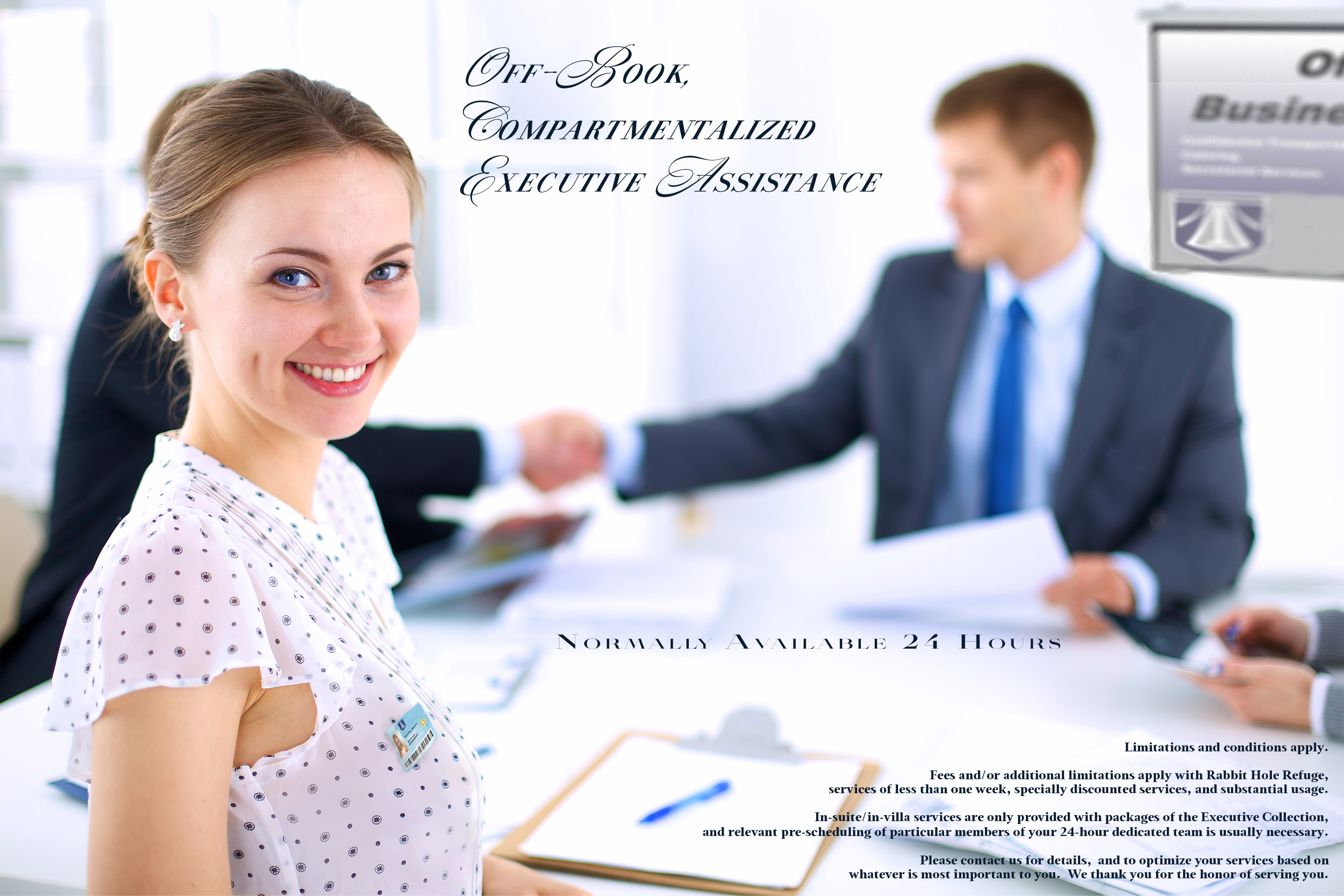 A gourmet sandwich, freshly squeezed juice, and your favorite style of coffee: if that favorite preparation of coffee happens to be Irish, we'll bring a big bag full of conveniently pocket-sized bottles.  After you've had time to relax, we'll slip you a disposable toothbrush, toothpaste, and some breath mints. We carefully tend to lose any receipts for anything like those small bottles before anyone else wastes their time prying into your whims.  Those bottles are absurdly expensive from ordinary five-star hospitality, but, for mainstream brand names, we typically would not even trouble you for reimbursement.
Social and Personal Occasions
Social Events
Family and Church Events
Uninterrupted Romantic Moods
Change without Leaving the Event
Some special requests from you to incur expenditures on your behalf may be discreetly expensed as reimbursable, but we will customarily ask for your preapproval.
Any Needs You Have
Private Chauffeuring
24 Hours • All Free • Generally Unlimited
Events
Empire Polo
Music Festivals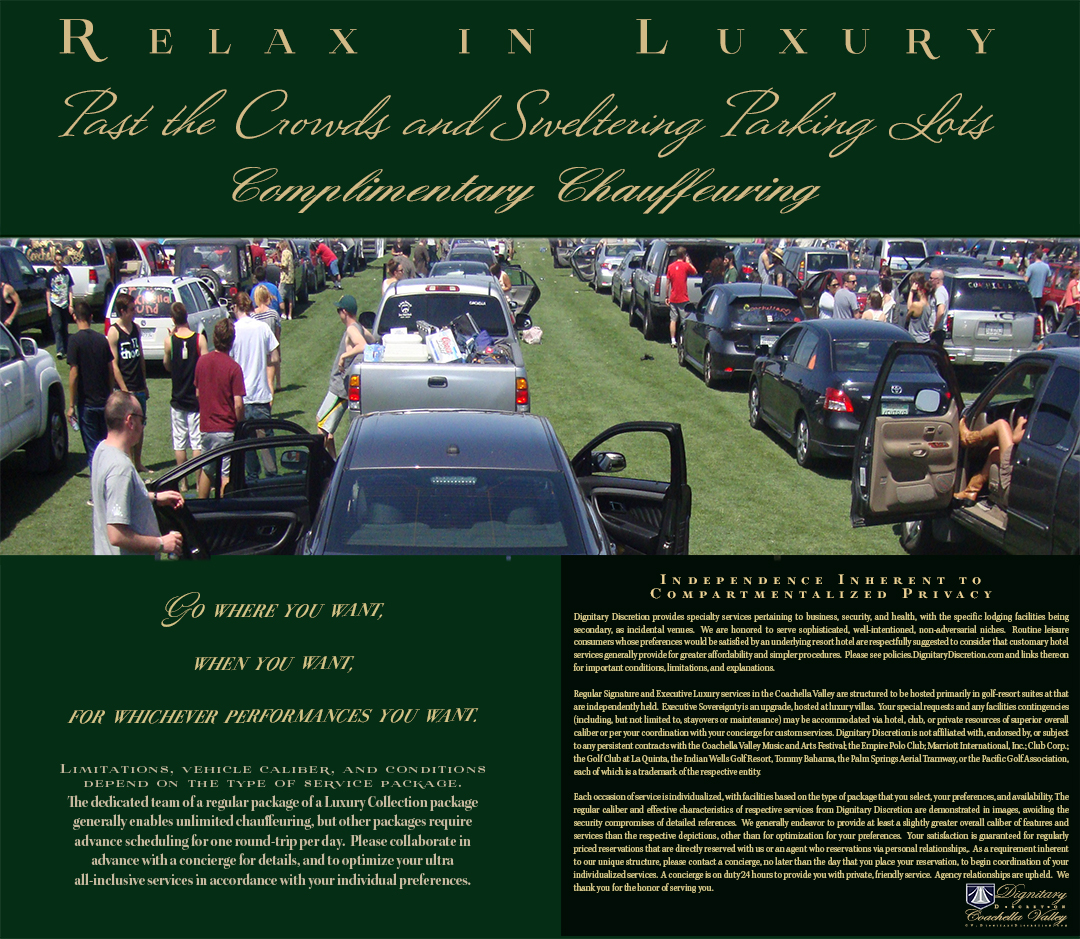 Southwest Church
Championships
VIP Leisure
Dignitary-Style
Excursions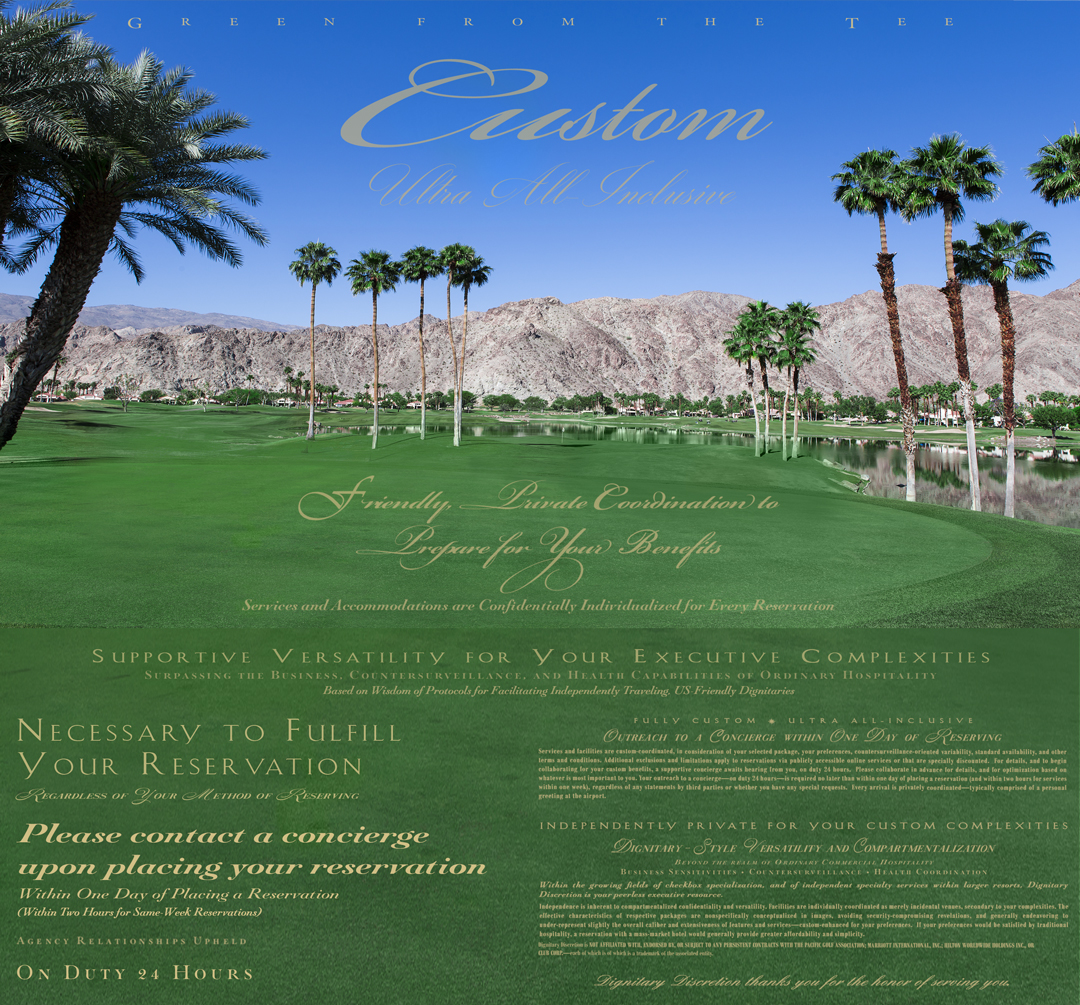 Extensive Health Club
The Coachella Valley Music and Arts Festival is a registered trademark of Goldenvoice. Dignitary Discretion is a trademarked service brand of HT Assets LLC, which is not affiliated with, endorsed by, or licensed by Goldenvoice; the Empire Polo Club; the Indian Wells Tennis Garden; ClubCorp; Marriott International, Inc.; or the Pacific Golf Association.
Limitations Apply
Limitations apply to all services, and some services involve additional fees. Please contact a concierge for an optimized package to provide you with what is most important to you, thereby often eliminating any additional costs for services beyond our standard inclusions. Because we normally chauffeur in luxury SUVs, open containers of alcoholic beverages cannot be in the vehicle while the motor is running. Some services require a full-week stay to qualify as complimentary, and our actual costs of rush/short-term services with shorter stays may be reimbursable.
Overnight Retrievals and Returns
Southern California
Arrive with Enthusiasm
Walk out your front door as your door is opened to VIP immersion.
A friendly chauffeur, concierge, or hostess carefully places all of your luggage in the luxury SUV.
All of your favorite premium food and non-alcoholic beverages will be limitlessly presented for you.
Watch prearranged Blu-ray movies on premium screens and audiophile-grade wireless headsets.
Sleep with plush neck pillows.
If You are Attending a Concert Event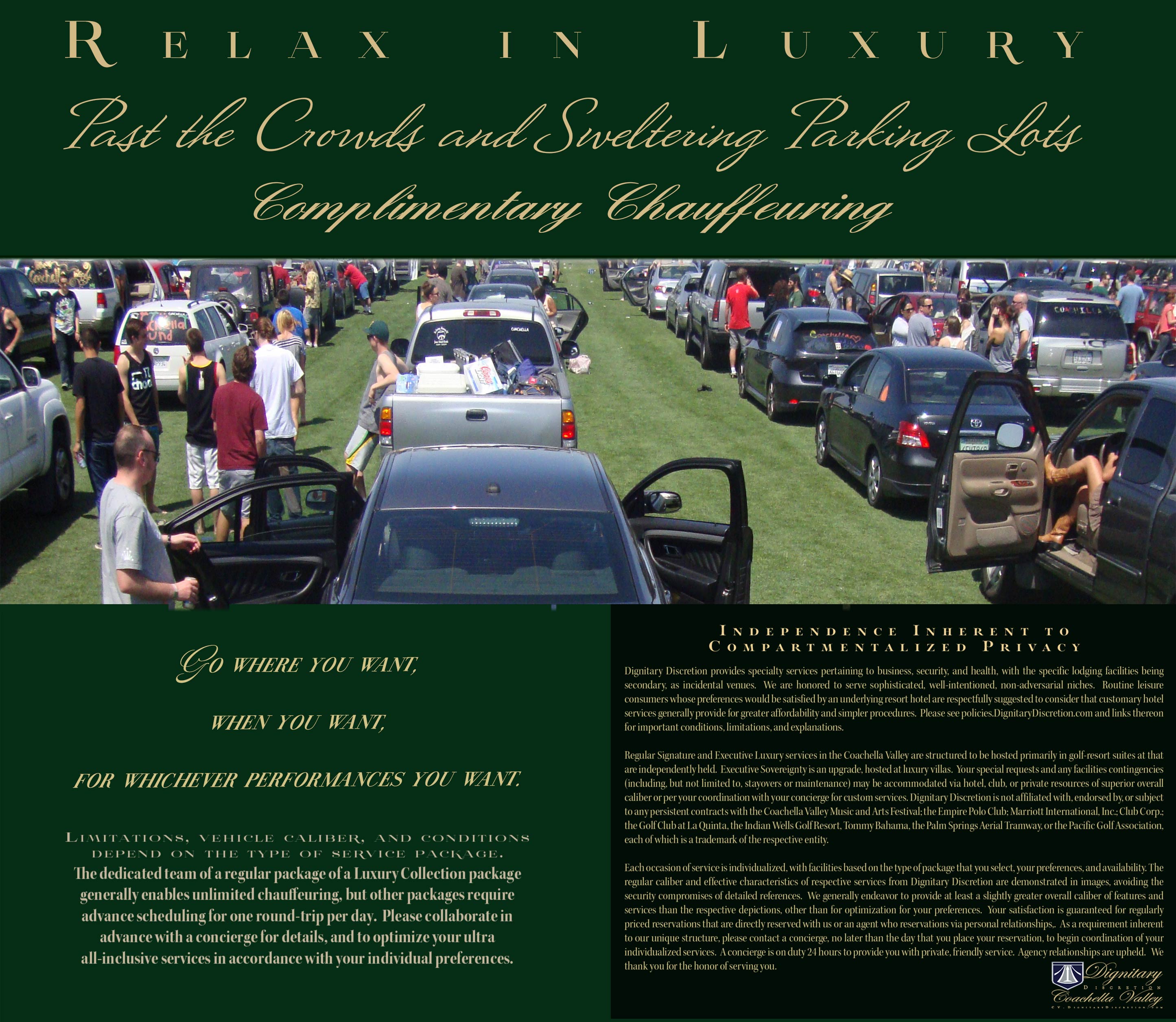 Shared Wisdom
Particular to the Coachella concerts, a frequent complaint among attendees is the tiring frustration of the long drives and the disappointments of crushed schedules in hours of abnormal Festival traffic that clog the Coachella Valley on Thursday evenings, Fridays, Mondays, and Tuesday mornings. Our comprehensive package with Executive Luxury or Romantic Sovereignty transforms the stress into special memories of living a dignitary experience. Don't jeopardize your safety or destroy everything with DUI issues.
Return on a Cloud of Joyous Memories
For your return trip, don't lose the joy to a conclusion of angst.  Don't jeopardize your safety or truncate the fun with DUI issues. Find yourself back at home—safe, calm, bathed, fed...and smiling.
Arise and on whatever schedule you want.  Don't lose the day to driving.  Have a memorably fun day in the region, being pampered in luxury.  You have the entire calendar day to enjoy.
Your chambermaid will follow your instructions for packing your luggage.
We will carefully place your luggage and accessible items in the luxury SUV.
All of your favorite premium food and non-alcoholic beverages will be limitlessly presented for you.
The SUVs feature your preference of convenient Wi-Fi or end-to-end encryption.
Sleep with plush neck pillows.