Sustained and Enhanced during the COVID-19 Pandemic

Mission-Critical Dignitary-Style Protections

We have always offered sophisticated cleanliness with our Executive Collection packages, based largely on relevant US dignitary/Presidential protections. We have now further enhanced our standards. Most protections would be inherently impossible for any customary five-star luxury hotel or class-A office building. Triple-sporicidal treatments sterilize deliveries with CDC BSL-4 specifications.

For more than a decade, most of our protections for an incoming client (for whom we provide non-emergency, directly administered lodging/housing with a package of the Executive Collection) were based on CDC, EPA, and NIH sterilization designations, pertaining both to client-touching surfaces and to UV-sterilized air. By definition, sporicidal sterilizing is the most powerful antimicrobial category by the EPA. Sporicidal sterilization generally pertains to surgical rooms, some private POTUS environments, and some laboratories. Sterilization at the sporicidal level also applies to patient-touched surfaces and UV air purification in reverse-isolation patient-recovery rooms, which are designated for special protection from the general populace of potentially infectious patients. Sporicidal sterilization categorically surpasses the official US COVID-19 advisories for public operations of commercial hospitality and offices.
Big-Picture ROI Wisdom of Avoiding Hospital-Borne Infections
BSL-4 is the highest category of pathogenic-protective laboratory in the United States; the rationale is that mission-critical head-of-state protection is worthy of extreme measures for the benefit of safeguarding a nation's stability. If you are an influential executive, a discretionary PEG manager, or one of many other HPI or UHNWI professionals, you also help to maintain widespread stability and prosperity, which is part of the importance of Dignitary Discretion uniquely availing those same protections to you.
No medical building—particularly with continuously flowing patients and multi-institution professionals—can ever be 100% clear of hospital-borne infections (HBIs).  HBIs are insidiously deadly every day in the US, despite the massive budgets and protocols that are maintained.  For a leader whose health and productivity are mission-critical to others' lives, whether as a head of state, a prominent corporate executive, an especially skilled professional, or as discretionary investment manager. Smaller nations, companies, and investment funds that are successful under the leader are the ones that are usually the most vulnerable to a particular leader's sudden loss of productivity or life. Therefore, if an organization or principal oneself deems private care to be a prudent investment—in lieu of herding into necessarily cost-efficient, governmentally subsidized institutions—the profound risks would be irrationally needless. Society in general does not benefit from partially subsidized medical care that is provided to wealthy individuals, but could benefit from the principal's sustained productivity and longevity.
Simultaneously, instead of using cost-efficient, generically multipurpose equipment that does not require special training, and the self-diagnostic equipment dedicated care enables the flexibility to use the most precise, advanced resources in the world.
Triple-sporicidal UV broad-spectrum sterilizing is combined with sterilizing surfactants of all category types are used to sterilize deliveries beyond CDC BSL-4 specifications.
Hospital/Laboratory-Grade Sterility
Not a Hotelier's Commonplace Goal of Merely a Pretty-Smelling Bathroom
The sterilizing techniques and agents that are used before (and throughout) your visit are actively sporicidal long after being applied. Typical hotel cleaners are not even viricidal, bactericidal, or especially not fungicidal. Instead most are categorized for possibly dampening the active growth rates of pathogens. Sterilization is mostly relevant to hospital, medical manufacturing, and laboratory protocols because the labor and supply costs are unaffordable for even the highest-risk major categories of other institutions: hotels and schools. Sterilizing kills hardened spores--many of which can lie dormant for months or years until another hotel guest or hospital patient is successfully infested. Going to the furthest extreme, we have always maintained surgical-grade broad-spectrum sterilizing of every category of pathogen, not merely a few easy species of bacteria (which would be the cheapest and easiest, the target realm of most institutions to be able to promote themselves as having achieved).
Isolation
The one set of new protocols pertains to isolation. As usual, staff quarters are near your villa, and your team serves you 24 hours at your beckon call. Now, chambermaids and nurses are also professionally tested and isolated for three weeks prior to serving you. Throughout the isolation before serving you and while serving you, there is no exposure to other clients or to non-client personnel. If you ask us to interact with others on your behalf, such as screening visitors, such interactions are performed with relevant CDC BSL3 and BSL4 protocols, or other safe and healthy protocols as mutually agreed with you.
As a function of the isolation protocols, the length of stay is recommended at four nights or longer. Otherwise, a special surcharge is applied. Rates for services of three weeks to one year are substantially lower.
Our direct operations have never maintained publicly accessible common areas for hospitality, the spreading of microorganisms among many guests via housekeepers and their equipment, or the routinely mixed compromises of guest rooms, foods, and vehicles. Front desks, lobbies, and other publicly accessible facilities fundamentally conflict with compartmentalized security.
Please click here to learn more about the safehouse paradigm.
Bedding
Antimicrobial
and

Hypoallergenic

Serious pillow-borne infections, insidious bed bugs, and bed-based outbursts of dust mites are commonplace at even the finest hotels, with world travelers unknowingly exposing themselves and their luggage.

Surpassing industry standards of luxury hotels that should be pristine, and of hospitals that should be anti-pathogenic, we use plush pillowtop mattresses with antimicrobial/anti-­parasitic/hypoallergenic mattress covers, and luxuriously soft antimicrobial/hypoallergenic/anti-parasitic pillow encasements.  With each client for hospitality under our control (particularly all Executive Collection hospitality), we keep the mattress and pillows hypoallergenic and clean of microbes with daily-cleaned specialty covers, which are then covered with pillowcases of such high thread-count that they themselves are hypoallergenic.   The inner cases are specialty items because they are antimicrobial and hypoallergenic, and also king-size with quiet, cool, soft material. The fact that we need to order our hygienically soft inner cases from a specialty manufacturer that rarely sells them demonstrates the disturbing rarity of our care, in a nation full of five-star hotels wherein permanently harmful infections are statistically routine.
Orthopedic
Sleep comfortably with neck, wedge, or full-body pillows. Pillowtop or mattress firming is complimentary.
Orthopedic bedding and mattress accessories are complimentary for the following packages:
Executive Luxury,
Romantic Sovereignty,
Executive Cruises,
weekly Signature,
White Cloak Comfort,
Enduring Executive, and
monthly stays of any type.
Please provide as much advance notice as possible (preferably more than a week) for special requests. Further lengths of advance notice enhance our ability to special-order orthopedic accessories. With your approval, urgent requests and specialty accessories are subject to reimbursement of our actual costs, but are yours to keep.
Pristinely Secure
Antimicrobial
and

Hypoallergenic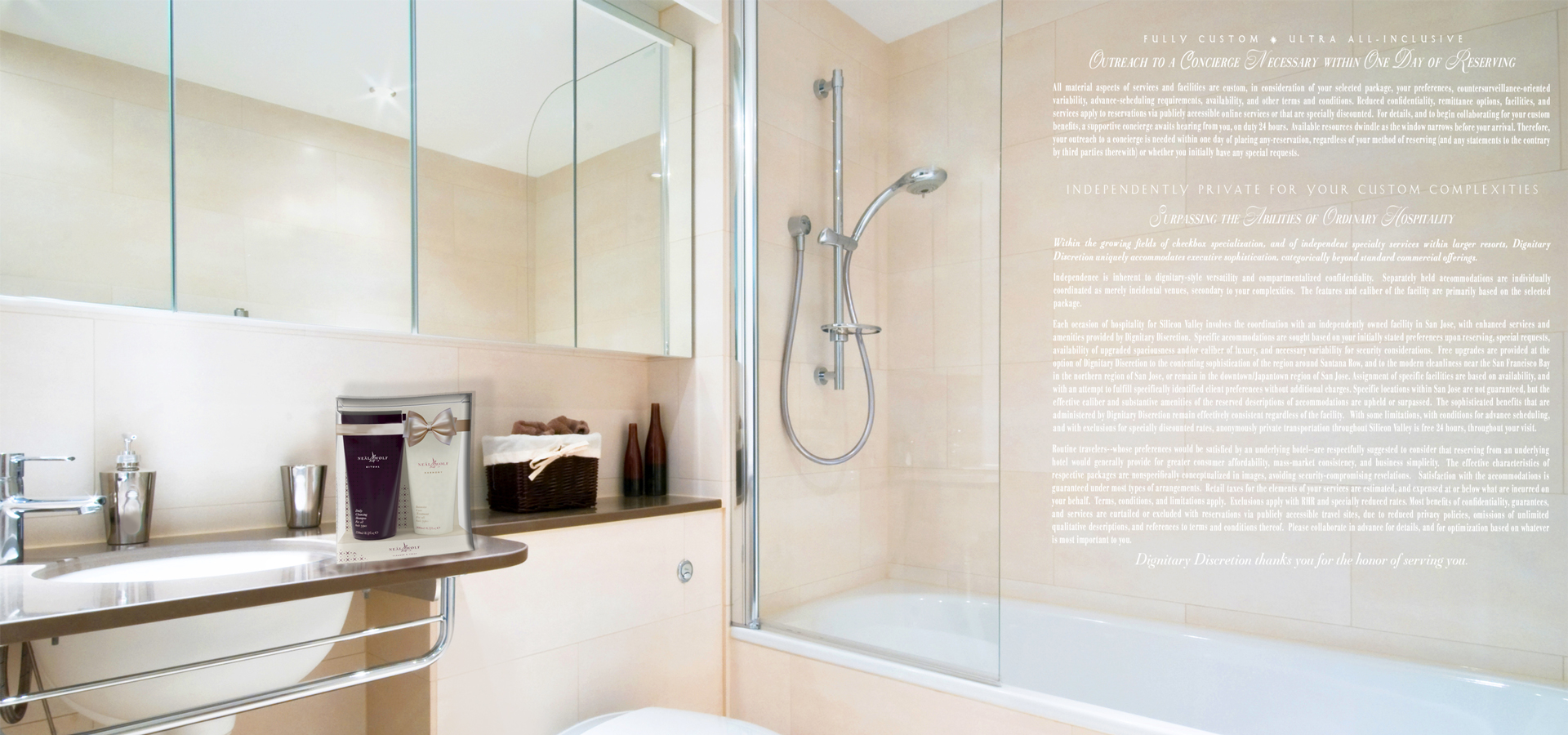 Feel Solid Breathing Clean Air
Benefits Depend on the Type of Service Package