Your Dedicated Captain
Your captain is trained and accustomed to complex situations at sea under covert conditions. Each captain has been the top commissioned officer of a vessel for the US, UK, or Israel. Pertinent to British or Israeli service, the specific clearance level may be effectively similar or higher.
Your Dedicated Crew Attends Only to You
On Board
and in

Your Island Enclave
First Mate as Your Personal Assistant
Cabin Rahab
Sweetly Pampering You in Luxury

Coordinated Personal Assistance
Whole-Hearted Confidentiality
Bask in serenity with the benefit of a loyal personal assistant who supports your routine business needs with incidental on-board secretarial assistance. She will coordinate with a fiduciary paralegal for land-based services.

Your Reliably Congenial Hostess
Your first mate will be loyally dedicated to following your lead as a safely sophisticated and consistently congenial hostess for any on-shore and off-shore meetings and entertaining.
Exquisitely Custom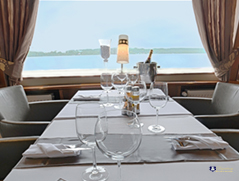 Personal Gourmet
Whatever would make you happiest, 24 hours a day, savor
your favorite gourmet cuisines,
premium wines, and
brand-name liquors.
Past the Sunset
Indulge in unlimited Glenlivet™ 18 Year-Old Speyside Scotch or Beefeater™ 24 Year-Old martini joyousness.
Be tenderly fed chocolate covered-strawberries.
Experience the pleasure of picturesque pastries flown from coveted European bakeries.
Beefeater is a trademark of Pernod Ricard. The Glenlivet is a Scottish operating brand and trademark of Chivas Brothers Limited.
Before casting off, and via day-trips to shore (via small on-board craft), your first mate will stock all of your favorite foods and research recipes for delicate presentations.  With the yacht's small but gourmet-capable kitchen, she will carefully devote herself to preparing everything the way you like.
Yachtsman's Stateroom
Your first mate will soothe you to sleep each night with a calming massage. Separate masseuses provide couples' massages.
Stay healthy and comfortable, with your private head and cabin cleaned tightly every day at antimicrobial and hypoallergenic standards.  While you are above deck, your thousand thread-count sheets will be changed daily.