Suitability
White Cloak Comfort supports secure privacy, discreet hospitality, and independence. Comfort hospitality is treasured for its practical importance to niche clients
during specialized medical care, while continuing to uphold professional obligations,
while achieving or restoring success regardless of physical disability, and
while recovering from physical limitations, while staying productive and relatively comfortable.
We endeavor to enable you to focus on recovery and business success, reducing the risks of publicity exposure to reporters, and adversarial awareness of your interim vulnerabilities.
White Cloak Comfort provides relatively cost-efficient hospitality while upholding
secured compartmentalization of information and location,
24-hour on-site care,
the ability for you to to be joined by support and security staffers,
the flexibility to leave for meetings and social events, and
facilities to enable your comfortable maneuverability while staying productive.

For the sake of maintaining appropriate expectations, the conceptual caliber and spaciousness of physical features are approximately analogous to Rabbit Hole Refuge hospitality. Enduring Executive hospitality is more luxurious. We endeavor to customize each stay with accommodations aligned with each traveler's accessibility and other health needs.
Compared to most med spas, and to the handicapped rooms of many extended-stay hotels adjacent to hospitals, the characteristics of the units we use are intended to enable longer stays with greater flexibility to support business productivity—as well as private medical care if needed.
Our enhancements to disability-accessible junior suites normally enable greater flexibility and dignity than traditional lodging of assisted-living facilities and rehabilitation centers. We provide customizations to support your leadership effectiveness and sustained social presence, while discreetly working to enable you to keep personal what is nobody else's business.
We endeavor to enable you to have access to a category of medical capabilities not achievable by regular hotels. We welcome you to specify for us how to coordinate complex disabilities, or med-surg recovery. For the purposes herein, easily understood features often include adjustable beds, and connectivity for critical-care health monitors. Comfort facilities are uniquely designed for those who need them. The accommodations (such as the adjustable hospital-like beds) would be absurdly mismatched for anyone who could possibly conjure these accommodations as relevant for regular travel. For those who indeed need these kinds of accommodations and this style of service, they are often dependent on us as their singular resource for staying productive, better secured from sophisticated adversaries, and content.
Services
Coordination with Medical Providers
Your medically oriented concierge is happy to coordinate professional specialists in support of the excellence of your care, within legal limits of such coordination.  There are no markups, commissions, or referral fees paid between medical providers and us. Please see our main page of medical coordinated services for more information.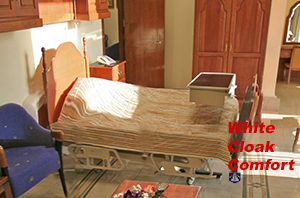 Because the accommodations are provided at a nursing home, physical rehabilitation facility, assisted-care facility, or medical facility, some forms of medical services are mandatory. At a minimum, a licensed physician's consultation is required for every client, regardless of self-reported needs. We apologize for any inconvenience, but we are required to cancel services if medical supervision is declined against medical advice or if a consultation is refused. If you do not need medical care or nurse-assisted disability assistance, please select from one of our standard hospitality services.
Transportation
We do not subject you to nursing-home shuttles, or to the restrictive imprisonment feel of medical facilities. We generally endeavor to support your security with nondescript vehicles. Our complimentary luxury transportation respects that you must maintain external responsibilities for your professional duties, such as business meetings and evening social events. In addition to special terms for Comfort hospitality, particularly the need to pre-arrange your disability- or medically-accommodating transportation, our standard Signature provisions, limitations and conditions for transportation apply. Comfort hospitality provides for disability-accessible vans or sedans; ambulance and helicopter services must be paid directly to the service provider.
Transportation with Comfort hospitality is intended to be functional and enabling; we respectfully suggest our Enduring Executive service for luxury enhancements.
We are happy to customize most commonplace services and amenities at no extra fee. Because each instance of Comfort transportation is individually customized to be accommodating and supporting, please coordinate in advance; any services wherein the specific details are finalized in less than 24 hours are charged at cost. Due to the specialty nature of the transportation, all wait times—including for aircraft delays—are charged at cost.
Your Sustained Business/Professional Productivity
We offer the productive freedom and supportive independence not provided by traditional med spas and recovery facilities.  We can provide the dignity of private, spacious suites that accommodate security personnel and the freedom to work productively and to dictate your own schedule, whether working full-time or occasionally going out to appointments. 
Custom Cuisine and Beverages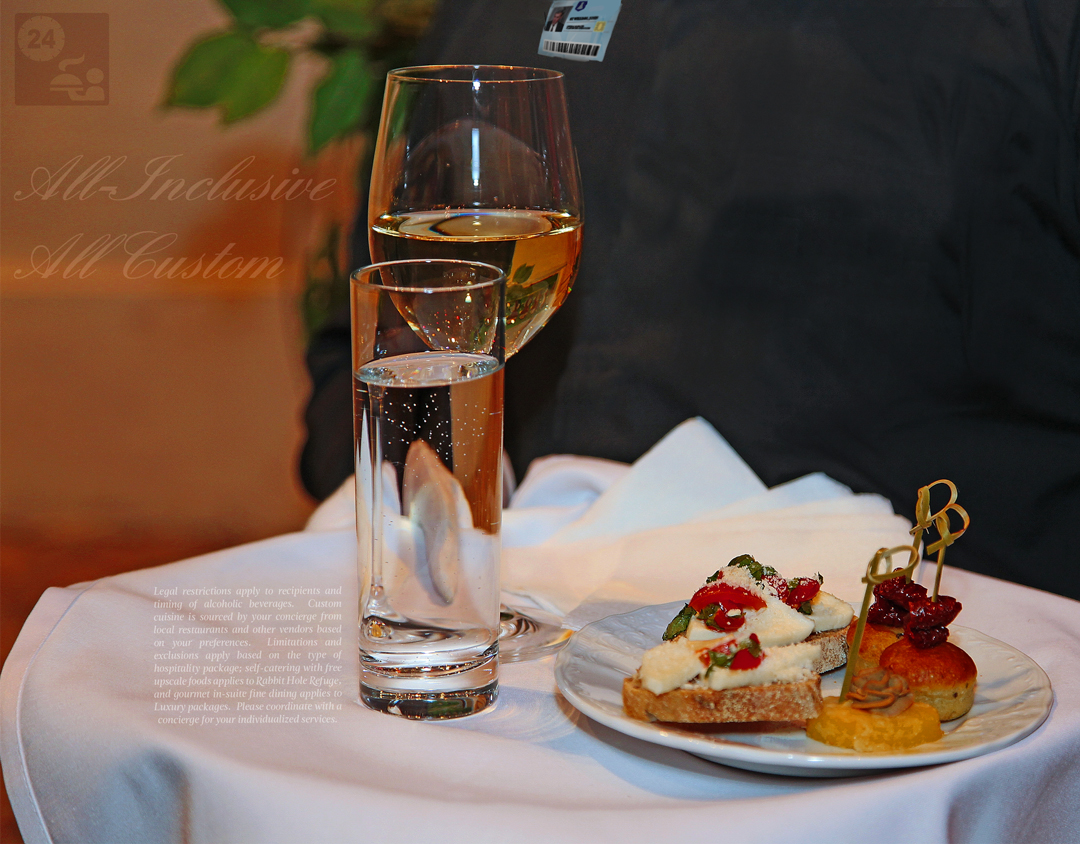 At the risk of disappointment for how everyone loves being hospitalized in order to savor the gourmet delicacies of hospital and rehab food (sometimes even being able to differentiate the consistency of the generic gelatin dessert from the preceding chicken-like substance) we offer a contrast of deliveries of your taste preferences of deliveries from local restaurants, while also facilitating your social and business engagements at restaurants and lounges. Your favorite types of liquor, varietals of wine, and imported beers are all included. (Our standard limitations and conditions apply, deriving from our Signature Hospitality package.)
F
acilities
W
e will collaborate with you on your placement in accordance with your preferences. Your confidential unit shall be located in or near the grounds of your designation of preferred hospital. Active medical care beyond incidental responses will require outsourcing to an appropriately licensed facility, such as a private luxury unit of an outpatient recovery center. Regardless, the actual cost of the facilities is shown to you as an expense account. We shall supplement all-inclusive luxury services and portable amenities for the objective of being positioned categorically above respective five-star standards of inclusions.
Studio Suites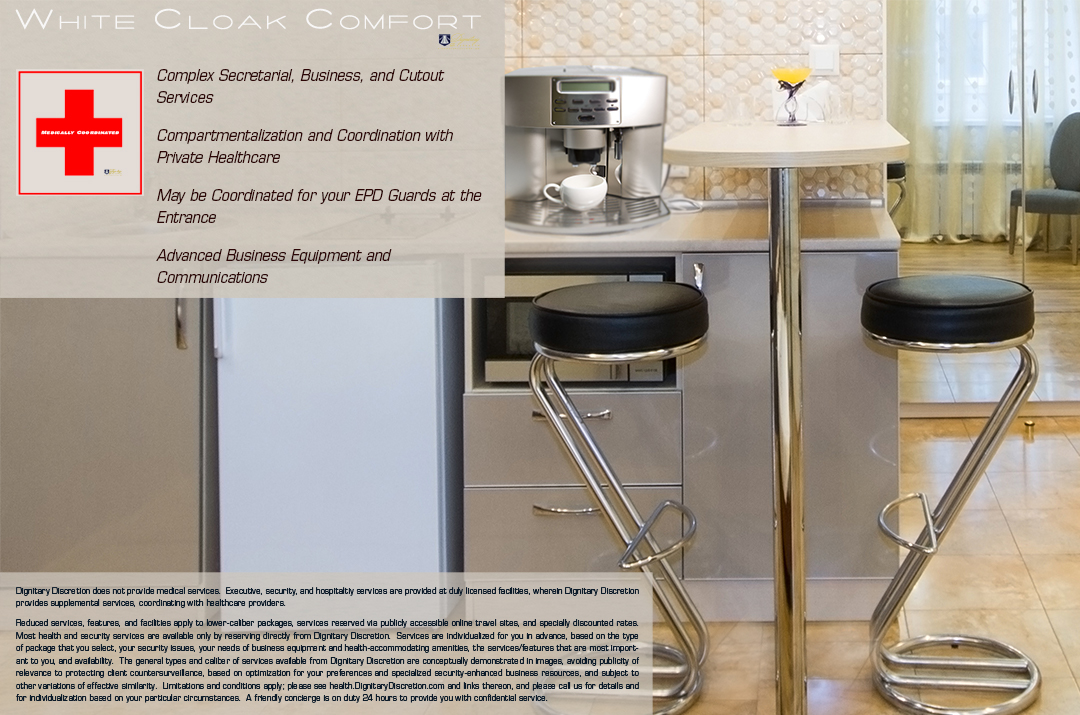 The conceptual caliber and spaciousness of physical features are approximately analogous to Rabbit Hole Refuge Safehouses. While recovering from injuries, cosmetic surgery, or acute treatments, many outpatients remain in hotels or spa retreats. We endeavor to customize each stay with accommodations aligned with each traveler's accessibility and other health needs.
Standardized Names
Some travel databases use standardized names.
Variations of our White Cloak Comfort units are provided with reduced services with simplified names on some third-party sites as Comfort Suites - Handicapped Accessible. Some hospitality databases list a limited-services version of our Recovery Package as studio/junior suites with disability access.
Important Limitations
Due to the inability to provide nuanced explanations and complex pre-arrangements, some of the customized and complex services listed herein are only available when reserved and fully prepaid directly with us. Nevertheless, please coordinate with us prior to arrival to support accessibility of whatever disabilities or limitations you have, with as much advance notice as possible. If they are provided, custom arrangements requested within two weeks of need are generally charged at cost.
Dignitary Discretion does not provide medical services. Dignitary Discretion provides business services, executive services, and luxury hospitality—which can be coordinated with healthcare providers in licensed facilities. Services are for prominent individuals who face privacy risks and/or who must maintain professional activities during recuperation, not in conjunction with medical emergencies, immoral procedures, addictions, major surgery (other than non-complicated recovery from outpatient cosmetic surgery), or critically labile conditions. Please click here for more information.
Additional limitations and conditions apply. Please click here for more information, and please contact us for custom arrangements.
Due to the need for detailed and confidential coordination of custom services, transportation services are generally not provided with this particular type of hospitality if booked through a third party (such as a travel Web site). This is the only package of hospitality that does not normally include complimentary transportation if not booked directly. (Our dignitary-grade hospitality with disability accessibility is only available directly, due to the same concept of necessarily heavy customization.)
Lessening counter space, the bathroom sink is more suitably positioned for wheelchairs. The combination shower/bathtub features a minimum of two grab bars (inside and directly outside of the shower/bathtub) and a hand-held shower head. For a roll-in shower, nurse-provided bath services, or additional accessibility features (please coordinate in advance), please select Enduring Executive hospitality.