Luxuries
while

Traveling Confidentially
Exposure-Protective
The Ultimate in Extensiveness
Private Training
Ultra Full-Service • Ultra All-Inclusive
You will be privately chauffeured with free access to supplemental premium-caliber amenities, such as an extensive health club with unlimited tennis, aerobics classes, and swim classes.
We supplement services and amenities with our packages of the Executive Collection to yield an ultra all-inclusive five-star-plus experience. Benefit from the best of all worlds:
convenient access at your beckon call to the uncompromising optimal premium-caliber facilities and services—culling the customized best for you from local resources, multiple hospitality providers, and limited-membership executive-caliber private clubs—not limiting to you to customary hotel facilities;
discreetly sophisticated off-book compartmentalization, cutout proxy representation, and other methods for your enhanced confidentiality;
door-to-door (and, whenever possible, private garage to private garage) chauffeuring with discreet exposure avoidance (albeit not evasive traffic maneuvers for services within the US); and
24-hour dedicated assistance on your behalf for any errands or other incidental tasks, enabling you to focus on the impetus in your business travels and to remain unhurriedly focused while you suavely avoid awkward distractions.
The Ultimate in Athletic Resources and Benefits
Ultra All-Inclusive • Privacy-Protective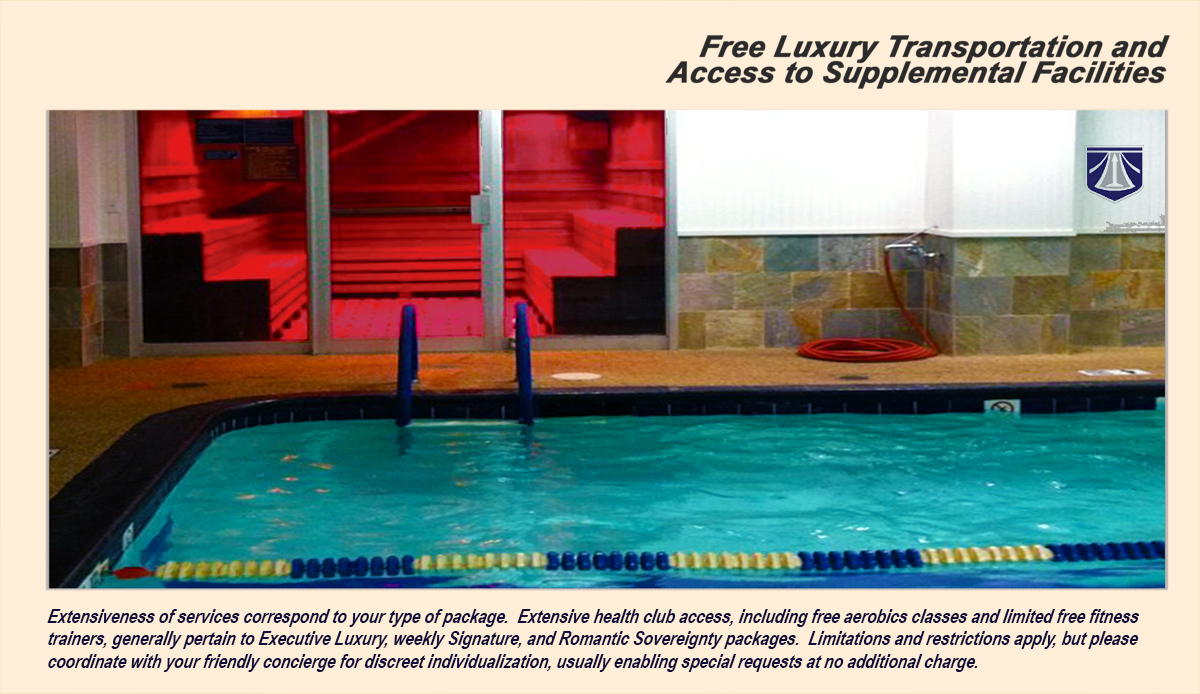 Protective of Your Solace
Reasonably Invulnerable to Systematic, Blanket, and Remote Searches • Restrictive Time Windows
Unlike the Inferred Identifiability, Porous Interconnectivity, Sustained Accessibility, and Broad Porousness of Customary Hotel Facilities
Complimentary Premium-Caliber Access
VIP Access provides you with complimentary, premium-caliber admission (such as front-of-the-line benefits, where applicable and offered), escorted by a host or hostess on behalf of Dignitary Discretion who provides protections for your privacy and provides you with support dedicated singularly to you (such as towel service at pools, and discreet personal service at gyms).
Locations and Service Providers
We endeavor to provide you with access to premium-caliber amenities from luxury resorts, private clubs, and specialty providers, based on whatever activities and characteristics would be most enjoyable and/or beneficial for you. Not every private club, resort, or service provider is available to us, or can be reasonably provided by us, but please coordinate with us in advance so that we can provide excellent fulfillment of whatever characteristics are best for you. Medical waivers, expense limitations, pre-scheduling, and service-provider conditions apply.
Costs on Your Behalf
With limited exceptions for some business-center costs and specifically identified benefits with extended stays, any transactions that you wish to make can normally be applied against your deposit with us—thereby endeavoring to support your convenience and privacy—but we could not feasibly sustain the costs for food (our ultra all-inclusive meals only pertain to you in your suite/villa), beverages (particularly bottle service), or optional services ourselves. We welcome the opportunity to coordinate special requests, but obviously not all special requests can be complimentary. Except as otherwise agreed, we generally do not apply our own fees or surcharges for expenditures incurred on your behalf.
Additionally Selected Limitations
For the purposes of applicability to complimentary access, the concept of resort/club amenities pertains to types of resources that are customarily complimentary for patrons of most luxury hotels nationwide, without specific schedules (such as shows) or personal implementation by a staffer (such as tours).  It generally includes standard access to the following:
pools,
gyms, and
specifically identified other resources.
Although we flexibly customize your access benefits, access is not available for venues with the following characteristics, at our unilateral determination:
restrictive of unlimited clients of ours on a per-client basis (such as some private clubs limiting the ability for us simply to pay for anonymous clients),
excessively distant,
potentially security-compromising,
appear to have relatively elevated risks of health or safety, or
are excessively costly. 
The following charges would be at your expense, but we may voluntarily pay your charges on your behalf and apply those charges to your account:
any cover charges, bottle service, ticket fees, or use charges for nightclubs, entertainment, events, and leisure attractions;
food, beverages, special equipment, supplies, tips, premium supplemental resources, services, equipment rentals and other optional charges incurred from the venue (except in accordance with limited, specific provisions that we chose to incur);
green fees, athletic court rentals, and equipment rentals, except as specifically provisioned and arranged by us at facilities and with resources of our choosing;
the portion of access fees that are higher as a function of being on a weekend, during a holiday period, after lower-cost/free earlier hours, or during a special event;
any costs for damages, unreturned items, or avoidable fees.
Use of Equipment and Supplies
At least two weeks' advance notice is required for the use of equipment and supplies, particularly for electronics and athletics. Reimbursement of expenses would apply to mutually agreed custom requests, and for the replacement of any lost or damaged items.
Applicable with Most Arrangements of the Executive Collection
Limitations apply based on the type of hospitality package, with VIP services applicable to clients of regularly priced Executive Collection packages. Weekly benefits pertain to services of full, contiguous weeks. Reduced services apply to lower-caliber packages and to specially discounted rates. Please contact a concierge for details, and for discreet optimization of services based on your medical, privacy, scheduling, and invigoration interests.